Gaia PC Jigsaw Puzzle™ 2
Top 7 reasons to download Gaia PC Jigsaw Puzzle 2
Play an unlimited number of jigsaw puzzles on your computer
Create custom jigsaw puzzles with your personal images, photographs or almost any images
Choose from 12 to 2000 pieces
Variety of piece shapes
Realistic high-quality 3D pieces, graphics and advanced piece handling
Game adapted for children and adults
Gaia PC Jigsaw Puzzle is an innovative PC jigsaw puzzle game that allows you to create and play personalized jigsaw puzzles with your personal images on your PC. Unlike other PC jigsaw puzzle games, it allows you to play your favorite jigsaw puzzles in the same way as you play traditional jigsaw puzzles. The game saves you money by allowing you to play an unlimited number of jigsaw puzzles on your computer. You can choose your personal images, the number of pieces, custom shapes and more!
Play with your personal images
Because you can choose almost any image you want, our game guaranties you unlimited hours of fun! Traditional jigsaw puzzles do not allow you to choose your personal images. There is a good variety of images on jigsaw puzzles that you find in stores, however you are still limited to this selection. The game will play with almost any personal images that you have on your PC. That means that you can play with your personal images from your digital camera or images that you find on the Internet. There are billions of images on the Internet! We guarantee unlimited hours of play!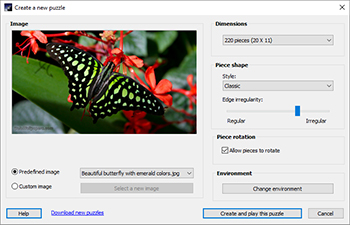 Play with a custom number of puzzle pieces
The game lets you play with the number of pieces you want. Actually, you can choose from 9 to 2000 pieces. This is an easy way to modify the difficulty.
By choosing the number of pieces and the image, you will create unique jigsaw puzzles.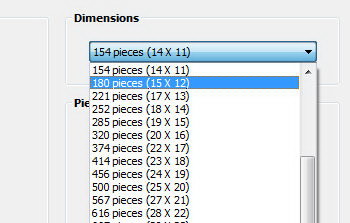 Play with a great selection of custom shapes of puzzle pieces
Another feature you will not find on classic jigsaw puzzles is the possibility to choose the shape of your pieces. You can choose among 4 different piece shapes for the puzzle pieces. The different shapes are:
Classic
Square
Round
Random Mix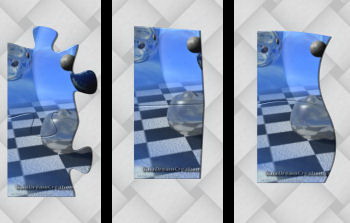 Choose the irregularity of the piece edges
You can also choose the degree of distortion of the puzzle pieces. That means the puzzle pieces can all look the same, which is harder to play, or all look really different, which is easier to play. That increases or decreases the difficulty level.
Rotate pieces
You can choose to rotate or not the pieces when solving the jigsaw puzzles. When creating new game, you have an option that you can select. If not selected, all pieces will be perfectly aligned. If selected, all pieces will be randomly rotated at the beginning. The pieces can be rotated like the real pieces of a real jigsaw puzzle: 0, 90, 180 or 270 degrees.
Save / Load your games
The game is made in a way that you can save and load your games whenever you want. You can also save as many games as you want. You do not need to complete a jigsaw puzzle to start another one. This is a benefit that you do not find in traditional jigsaw puzzles. The game has an interface that allows you to manage easily your games.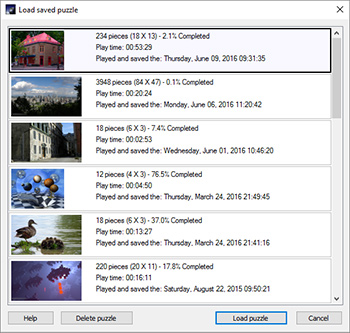 Customize your background environment
The game comes with many background environments. If you do not like our backgrounds, you can choose your personal images as backgrounds.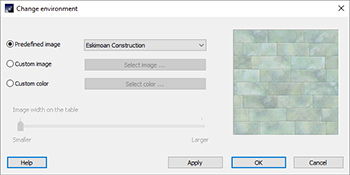 Easy to play for kids and adults
The game allows you to play jigsaw puzzles from 9 to 2000 pieces. It is so simple to play that kids and adults can play. Your children will be able to play and enjoy the same jigsaw puzzles that you play, but with fewer pieces. The game comes with clear instructions.
The game is for fans of all levels. Because you can choose the number of pieces, the images, the piece shapes and more, you will not be bored again playing a jigsaw puzzle too easy or too hard. You have total control on the exact difficulty level of your game.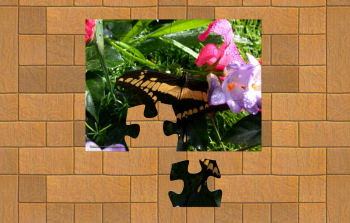 View with zoom in / zoom out
Unlike other jigsaw puzzle games, this game allows you to see your puzzle board in 3D. Even if a jigsaw puzzle is made from a 2D image, the game displays each puzzle piece in 3D. The result is a higher-quality image on your computer screen.
Because the jigsaw puzzle is displayed in 3D, that means that you can play your games like a real jigsaw puzzle game. You are not restricted to your computer screen size. Very often the size of the pieces causes problems to fit into the whole screen. With the easy Zoom In / Zoom Out functionality, you can modify the puzzle distance. The pieces will look smaller or bigger depending of the zoom state.
Furthermore, the 3D view allows you to play your games just like you would do with a real jigsaw puzzle game. The game play experience is almost as real as playing a traditional jigsaw puzzle game. More precisely, you can change the distance from which you look at the puzzle or change your position above.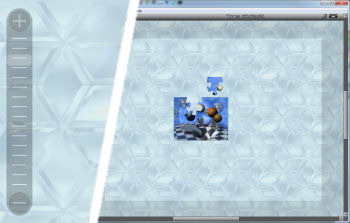 Ghost image
The ghost image is a tool that helps you placing your puzzle on the table. It helps you to get the pieces aligned by showing the puzzle image and its dimensions. It also helps you to determine the final position a piece.
The ghost image is optional. It will be displayed only when you want it. If you are stuck trying to determine the position of a piece, it might be useful to have the ghost image to locate quickly the piece's position by matching the image on the piece with the ghost image on the table.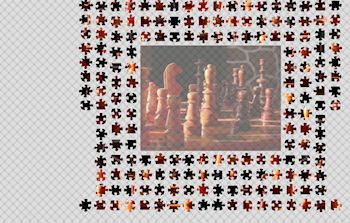 High quality pieces
This game displays the most realistic pieces of all jigsaw puzzle games for computer. The pieces are not pre-cut shapes. Actually, they are computed with advanced mathematical operations to make them look as real as true pieces. You can even see and feel the cardboard thickness.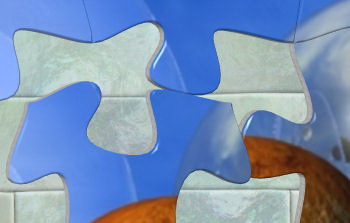 Screenshots
Here are some screenshots of the game.
Gaia PC Jigsaw Puzzle Bonus
Get an exclusive version Gaia 3D Jigsaw Puzzle Screensaver™ for free!
When you order Gaia PC Jigsaw Puzzle, you get an exclusive version of Gaia 3D Jigsaw Puzzle Screensaver for free! This screensaver is not even sold separately. This screensaver features realistic 3D puzzle animations on your desktop.
Minimum system requirements
OS:
Windows® 8
Windows® 7
Windows® Vista
Windows® XP
Processor:
Intel® Pentium® II/equivalent
RAM Memory:
1024 MB
DirectX®:
Version 9.0c
Graphic card:
DirectX® 9.0c compatible with 3D capabilities
Sound:
DirectX® 9.0c compatible
Hard drive:
40 MB
Internet connection:
One-time connection for installation
100% Satisfaction Guaranteed: Try before you buy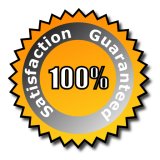 To ensure your entire satisfaction, we recommend that you try Gaia PC Jigsaw Puzzle before you buy. It is a NO risk purchase! You can verify that our game works properly on your computer and also ensure that you like it. This represents many hours of fun!
What you get with your purchase
Gaia PC Jigsaw Puzzle 2 (the game)
Gaia 3D Jigsaw Puzzle Screensaver 2 (the bonus screensaver, exclusive edition)
Free support
Free updates for version 2
Read the download instructions for more information.
$19.95 USD